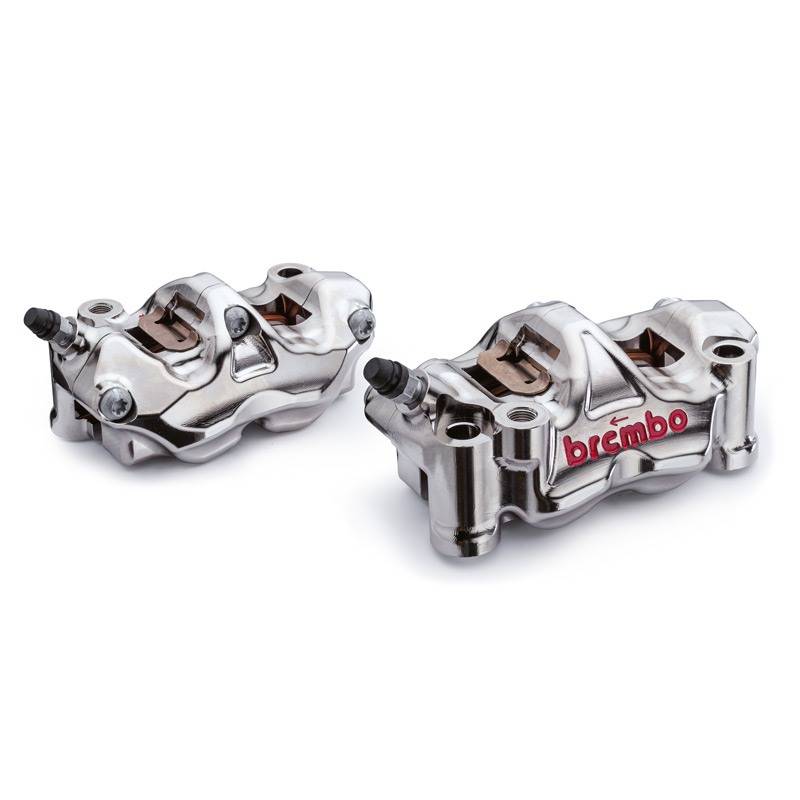  
KIT 2 PLIERS BRAKE RADIAL CNC CNC GP4-RX BREMBO RACING + 4 PADDLE PANELS 108 MM P4 32
Brembo Racing
* NON-EU customers and EU VAT Companies can save VAT, contact us after checkeout
KIT 2 PLIERS BRAKE RADIAL CNC CNC GP4-RX BREMBO RACING + 4 PADDLE PANELS 108 MM P4 32
The body of this caliper is made entirely from solid and is composed of two mechanically connected pieces. Particular attention has been paid to the search for high braking power and stiffness values, obtained thanks to meticulous design, the use of carefully selected raw materials and the use of the latest technological advances in metal processing.
Hydraulics has been the subject of careful refinement work. The use of 4 pistons with a diameter of 32 mm has allowed to further increase the power and the modulation of the braking.
This model adopts a surface finish borrowed from MotoGP. The nickel coating, in addition to giving a decidedly attractive look, has allowed us to refine the already tight processing tolerances, to the benefit of performance and operating precision.
The sliding of the pads takes place through special guides, obtained by working on the body of the gripper itself, which have allowed the elimination of the pad pins.
The Brembo logo is worked in bas-relief and hand-painted in the classic Rosso Brembo. The product, supplied in kit form, is supplied with sintered tablets, which represent the top technology available on the market today. The kit also contains an instruction manual, a series of Brembo stickers and the very useful heat transfer adhesives, used in racing to control the working temperature of the calipers, which testify to the racing nature of the product.
TECHNICAL SPECIFICATIONS
FRONT position
2-PIECES caliper body
INTERAXIS 108 mm
Pistons Ø 32 mm
Number of pistons 4
H. 34 mm brake band
Material Solid machined aluminum
Nickel plating surface protection
Aluminum piston material
Weight without pads (gr) 1000
Tablets included in the supply Yes
Offset (mm) 22.5
Note Kit consisting of 2 clamps + 4 pads
Note
Pliers supplied with pads
Pliers not compatible with ABS system
Not compatible with low-end discs
HONDA 1000 CBR RR 2006-2019
HONDA 1000 CBR RR ABS 2009-2016
HONDA 1000 CBR RR SP 2017-2019
HONDA 1000 CBR RR SP ABS 2014-2016
HONDA 1000 CBR RR SP2 2017-2019
HONDA 1000 RC 213 V-S 2015-2018
HONDA 600 CBR RR 2005-2016
HONDA 600 CBR RR ABS 2009-2016
KAWASAKI 1000 H2 SE NINJA 2018
KAWASAKI 1000 H2 SX NINJA 2018
KAWASAKI 1000 H2 SX NINJA SE+ 2019
KAWASAKI 1000 Z 2007-2019
KAWASAKI 1000 Z ABS 2007-2016
KAWASAKI 1000 Z SX 2011-2019
KAWASAKI 1000 Z SX ABS 2011-2016
KAWASAKI 1000 ZX-10R 2004-2015
KAWASAKI 1000 ZX-10R 30TH ANNIVERSARY EDITION 2015
KAWASAKI 1000 ZX-10R ABS 2011-2015
KAWASAKI 1000 ZX-10R ABS 30TH ANNIVERSARY EDITION 2015
KAWASAKI 1200 ZX-12R 2006
KAWASAKI 1400 GTR 2008-2018
KAWASAKI 1400 ZZR 2006-2008
KAWASAKI 1400 ZZR ABS 2006-2019
KAWASAKI 600 ZX-6RR 2003-2007
KAWASAKI 636 ZX-6R 2005-2016
KAWASAKI 636 ZX-6R 30TH ANNIVERSARY EDITION 2015
KAWASAKI 636 ZX-6R 30TH ANNIVERSARY EDITION ABS 2015
KAWASAKI 636 ZX-6R ABS 2013-2019
KAWASAKI 636 ZX-6R KRT EDITION 2016
KAWASAKI 636 ZX-6R KRT EDITION ABS 2016
KAWASAKI 750 Z R 2011-2012
KAWASAKI 750 Z R ABS 2011-2012
KAWASAKI 750 Z R BLACK EDITION 2012
KAWASAKI 900 Z RS 2018-2019
KAWASAKI 900 Z RS CAFE 2018-2019
PINZE FRENO BREMBO RACING RADIALE ANTERIORE 4 PISTONI 108 mm INTERASSE CNC 2 PEZZI
SUZUKI 1000 GSX-R 2003-2019
SUZUKI 1000 GSX-R ABS 2015-2016
SUZUKI 1000 GSX-R R 2017-2019
SUZUKI 1300 B-KING GSX 2008-2012
SUZUKI 1300 GSX-R HAYABUSA 2008-2012
SUZUKI 1300 GSX-R HAYABUSA ABS 2013-2017
SUZUKI 600 GSX-R 2004-2016
SUZUKI 750 GSX-R 2004-2017
TRIUMPH 675 DAYTONA 2009-2013
TRIUMPH 675 DAYTONA ABS 2013-2017
YAMAHA 1000 MT-10 2016-2019
YAMAHA 1000 MT-10 SP 2017-2019
YAMAHA 1000 MT-10 TOURER EDITION 2017-2019
YAMAHA 1000 YZF-R1 2004-2019
YAMAHA 1000 YZF-R1 60TH ANNIVERSARY 2015-2016
YAMAHA 1000 YZF-R1 SP 2006
YAMAHA 1000 YZF-R1M 2015-2019
YAMAHA 1000 YZF-R1M 60TH ANNIVERSARY 2015-2016
YAMAHA 1670 MT-01 2005-2006
YAMAHA 600 YZF-R6 2005-2019
YAMAHA 900 MT-09 2013-2016
YAMAHA 900 MT-09 ABS 2014-2019
YAMAHA 900 MT-09 SP ABS 2018-2019
YAMAHA 900 MT-09 SPORT TRACKER ABS 2014-2017
YAMAHA 900 MT-09 STREET RALLY ABS 2014-2017
YAMAHA 900 MT-09 TRACER ABS 2015-2019
YAMAHA 900 MT-09 TRACER GT ABS 2015-2019
YAMAHA 900 XSR 2016-2019
YAMAHA 900 XSR 60TH ANNIVERSARY 2016
YAMAHA 900 XSR ABARTH ABS 2016-2019
YAMAHA 900 XSR SPEEDBLOCK 2016-2017