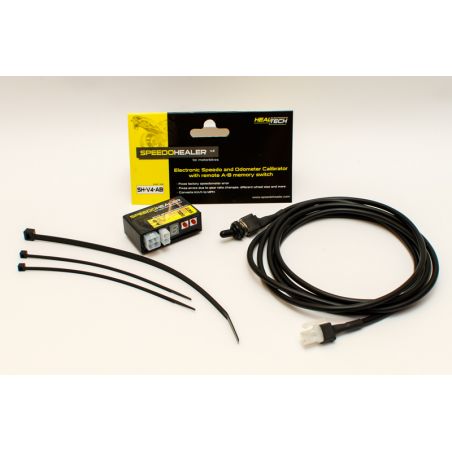  
Speedo Healer (B) - SH-V4-AB
- with setting selector - use with specific wiring
Wiring
Speedo Healer

3 functions in one, is a recalibration of speed.
On the odometer Japanese bikes have high rejects, and if you change the pinion or crown the gap increases further.
The
SpeedoHealer allows you to cancel the digital speedometer scrap motorcycle then display the correct speed. Re-calibrating the speed, it allows to eliminate the speed limits in 6th gear on some models of motorcycles Honda and Kawasaki.
Stores the maximum speed called up via button
Converts mph in mph and vice versa.
100% waterproof
allows variations up from -99.9% to + 99.9% with 0.1% steps
specific harnesses for motorcycles are sold separately from the operating unit.
SpeedoHealer v4

New features:

New user interface: even easier to program, review and update the stored parameters.
extended calibration range - capable of functioning even in special applications such as different motor-instrument combinations, jet engines mounted on cars, etc.
detachable remote control External button to call up the maximum speed included as standard values.
cables with black screen overlay, that blend aesthetically with the series.
smaller and lighter units of 30% - the smallest recalibration of the world.
improved design of the connectors - occupies less space with associated wiring.
Allows storing two independent calibration values ??and to choose between them by pressing a button. Clear and visible confirmation of the value in use. Useful for track-road use, when the rubber is varied measures, wheel or the final reports. Also useful for track use to evade the limiter connected to the speed.
Lets review and activate / deactivate the kmh / mph conversion by pressing a button.
It needs only 3 volts for operation - so simplifies installation on Yamaha and other models.
reduced consumption and standby automatically.