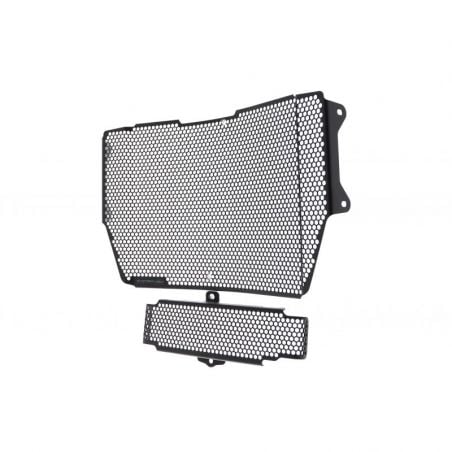  
Compatibility:
All Evotech Performance products are 100% compatible without modification with the indicated motorcycle model. Assembly does not require any additional components.All accessories are Plug & Play compatible with the original components of the bike. Any additional components necessary for assembly are always supplied in the kit.
Assembly guide:
On the bottom of this description you can download the photographic assembly manual which contains the list of components, if the link does not work you can ask for the manual after placing the order and it will be sent to you.
Description:
Evotech Performance EP Radiator Guard & Oil Cooler Guard Set - Triumph Speed Triple S (2018 - 2020)
2018,2019,2020

Features of EP Radiator Guard & Oil Cooler Guard Set for Triumph Speed Triple S
Fabricated from aerospace quality aluminium
Engineered to provide maximum protection from stones and other road debris
EP hexagonal matrix hole-pattern provides unrestricted airflow for efficient cooling
Designed to give a secure, precise fit with easy installation process
Black powder coat gives a durable factory-like finish
No chassis modifications required
Fixtures and fittings supplied where required
Fitting instructions available to download
What does an EP Radiator Guard & Oil Cooler Guard Set deliver?
The EP guard set protects the Triumph Speed Triple S radiator and oil cooler from damage caused by road debris (stones, mud, dropped waste etc), but at the same time allowing cool air to pass through. The radiator and oil cooler's thin, soft aluminium fins easily bend, and bent fins can restrict cooling air, which can lead to overheating. The radiator and cooler's internal cores are also prone to being holed by stones that can be picked up by the front tyre and flung directly into the radiator. Leaking coolant and oil can make the Speed Triple S inoperable because of overheating and low oil pressure, which can quickly lead to engine damage. Not forgetting that coolant and oil on motorcycle tyres cause sudden loss of grip.