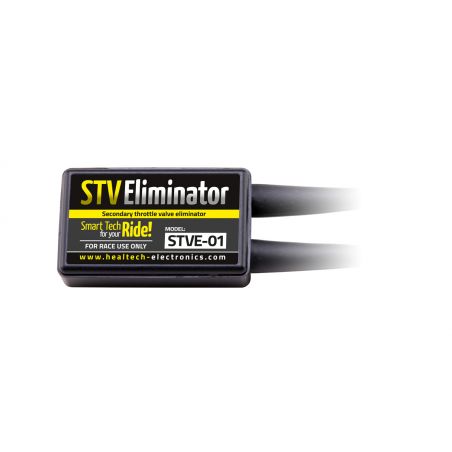  
HT-06-STVE override Butterfly Valve Secondary STV Eliminator KAWASAKI ZZR-1400 1400 2006-2020
HealTech
HEALTECH HT-STVE-06 KAWASAKI ZZR-1400 14002006 2007 2008 2009 2010 2011 2012 2013 2014 2015 2016 2017 2018
override Butterfly Valve Secondary (B) STV Eliminator > STV Eliminator
PRODUCT
HealTech >> STV ELIMINATOR
Due to the regulations on the control of emissions and noise, the secondary butterfly valves have appeared in the last decade motorcycles. This secondary throttle is controlled by the ECU of the motorcycle. For maximum performance and crisp throttle response, this secondary system is removed, mainly in road racing competitions. However, as soon as you disconnect the actuator motor of the secondary throttle valve from the main wiring of the bicycle, the FI indicator will light up on the instrument panel, since the ECU detects the problem with the actuator. The eliminator STV connects directly to the main wiring, acting as if it were the actuator. With the help of this small unit, it is possible to remove the entire group of the secondary valve with the actuator motor, the butterfly valve plates and the rod / the tree itself. Make work properly with this simple solution!

Note: it is recommended to control the AFR (air-fuel ratio) of the engine by a test center. You might need to be adjusted. oeil This product is intended for use in the race!

Fast and simple to use
Just disconnect the actuator motor from the main wire. Connect the Eliminator STV and the unit will operate when the actuator motor will still be in place. It is not required to have any splicing or welding and the bike wiring remains intact. It can not be simpler than that!

Alternative cheap
If the actuator motor fails (common problem on some models of bicycles) it is much cheaper to replace it with a new engine STVE.
Light weight and small

The STVE module has roughly the same size of the actuator motor which replaces.

Built to last
robust design, encased in epoxy resin.
are used only high-quality SMD components.
Each unit is extensively tested prior to shipment.
Oil and water resistant (IP68).