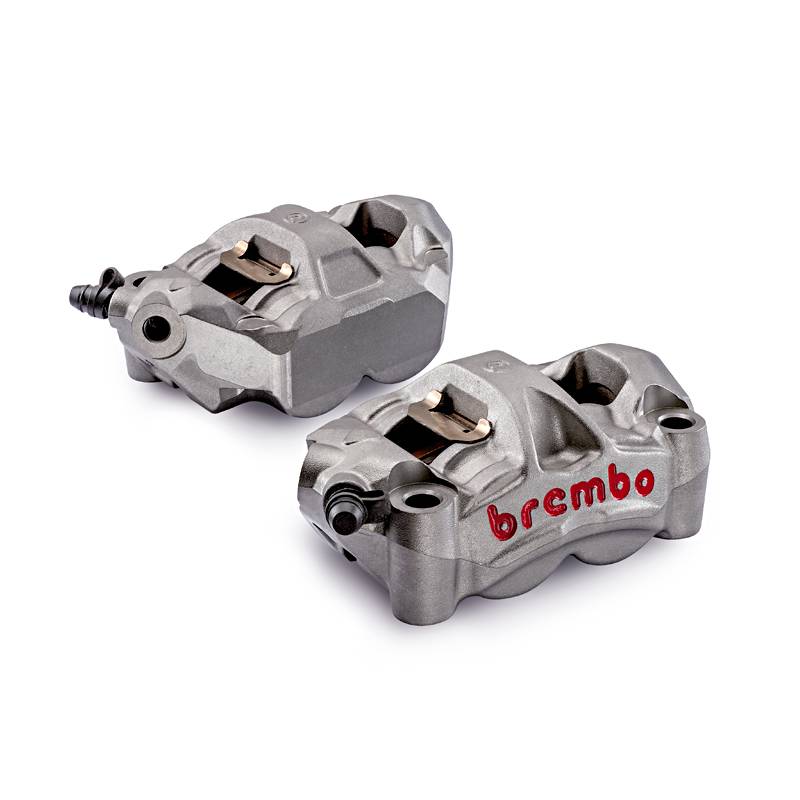  
KIT 2 CALIPER BREMBO RACING RADIAL M50 + 4 PADS DISTANCE 100 MM
Brembo Racing
* NON-EU customers and EU VAT Companies can save VAT, contact us after checkeout
KIT 2 BRUSHES RADIAL M50 M50 BREMBO RACING + 4 PADS INTERASSE 100 MM
In designing and manufacturing this monoblock caliper special attention was paid to the hydraulics and the shape of the caliper body, both subject to a careful technical improvement work. With a typically racing design, the caliper contains 4 pistons with a diameter of 30 mm. The compact body of the caliper, thanks to a careful refinement work, is able to guarantee the excellent power and modulation characteristics typical of Brembo calipers.
This clamp is the result of the use of sophisticated calculation programs of "topological optimization" which, thanks to iterative procedures, allow the removal of material from the areas of the clamp where it is not needed, so as to get as close as possible to the optimal structure, capable of to combine maximum rigidity with maximum lightness.
The caliper was presented for the first time at EICMA 2011 as the original equipement of the Ducati 1199 Panigale. In the M50 code, the letter M stands for monoblock, a technology successfully introduced in 1994 by Brembo in MotoGP, which allows the caliper body to be made from a single piece of cast aluminum, while the number 50 is a tribute to the years of activity of the company.
The product, supplied in kit form with 2 clamps, is equipped with sintered pads, which represent the top technology available on the market today.
TECHNICAL SPECIFICATIONS
FRONT position
MONOBLOCK caliper body
Wheelbase 100 mm
Pistons Ø 30 mm
Number of pistons 4
H. 34 mm brake band
Material Cast aluminum
Surface protection Anodic Titanium Oxidation
Aluminum piston material
Weight without pads (gr) 700
Tablets included in the supply yes
Offset (mm) 30
Note Kit consisting of 2 clamps + 4 pads
Note
Pliers not compatible with ABS system
Not compatible with low-end discs
APPLICATIONS
APRILIA 1000 RSV DREAM 2004-2008
APRILIA 1000 RSV FACTORY 2004-2008
APRILIA 1000 RSV4 APRC R 2011-2012
APRILIA 1000 RSV4 APRC R ABS 2013-2014
APRILIA 1000 RSV4 APRC SE 2011-2012
APRILIA 1000 RSV4 APRC STD 2011-2012
APRILIA 1000 RSV4 FACTORY 2009-2010
APRILIA 1000 RSV4 FACTORY APRC ABS 2013-2014
APRILIA 1000 RSV4 R 2009-2010
APRILIA 1000 RSV4 RF 2015-2019
APRILIA 1000 RSV4 RR 2015-2019
APRILIA 1000 RSV4 RR RACER PACK 2015
APRILIA 1000 RSV4 SBK RACING 2009-2010
APRILIA 1000 TUONO R 2002-2010
APRILIA 1000 TUONO R FACTORY 2006-2010
APRILIA 1000 TUONO V4 R 2011-2015
APRILIA 1000 TUONO V4 R APRC 2011-2013
APRILIA 1000 TUONO V4 R APRC ABS 2013-2015
APRILIA 1100 RSV4 FACTORY 2019
APRILIA 1100 TUONO V4 FACTORY 2015-2019
APRILIA 1100 TUONO V4 RR 2015-2019
APRILIA 1200 DORSODURO 2010-2011
APRILIA 750 DORSODURO FACTORY 2010-2013
APRILIA 750 DORSODURO FACTORY ABS 2010-2013
BENELLI 1130 TNT CAFE' RACER 2011-2014
BENELLI 1130 TNT CENTURY RACER 2011-2014
BENELLI 1130 TNT R 2011-2014
BENELLI 1130 TNT R160 2010-2014
BENELLI 1130 TNT SPORT 2004-2006
BENELLI 1130 TNT TITANIUM 2005-2007
BENELLI 1130 TORNADO TRE 2007
BENELLI 1130 TRE K 2011-2012
BENELLI 900 TNT 899 2012-2014
BENELLI 900 TNT 899 CENTURY RACER 2011-2014
BENELLI 900 TNT CAFE' RACER 2010
BENELLI 900 TORNADO RS 2004-2005
BENELLI 900 TRE-K 899 2011
BIMOTA 1000 BB3 2014-2015
BIMOTA 1078 DB10 BIMOTARD 2011-2015
BIMOTA 1078 DB5 2011-2015
BIMOTA 1100 DB6 2011-2013
BIMOTA 1100 DB6 R DELIRIO 2011-2013
BIMOTA 1100 DB7 2008-2012
BIMOTA 1100 TESI 3D 2011-2013
BIMOTA 1198 DB8 2014-2017
BIMOTA 1198 DB8 SP 2010-2013
BIMOTA 1198 DB9 BRIVIDO 2012-2013
BIMOTA 1198 DB9 BRIVIDO S 2012-2013
BMW 1000 HP4 2013-2014
BMW 1000 S 1000 R 2013-2019
BMW 1000 S 1000 R (FORGED WHEELS) 2017-2019
BMW 1000 S 1000 RR 2009-2019
BMW 1000 S 1000 RR (FORGED WHEELS) 2015-2018
BMW 1000 S 1000 XR 2015-2019
BMW 1170 HP2 SPORT 2008-2011
DUCATI 1000 PANIGALE V4R 2019
DUCATI 1098 1098 2006-2009
DUCATI 1098 1098 S 2006-2011
DUCATI 1098 1098 S TRICOLORE 2007
DUCATI 1100 HYPERMOTARD 2007-2009
DUCATI 1100 HYPERMOTARD EVO 2010-2012
DUCATI 1100 HYPERMOTARD EVO SP 2010-2012
DUCATI 1100 HYPERMOTARD S 2007-2009
DUCATI 1100 STREETFIGHTER 2009-2011
DUCATI 1100 STREETFIGHTER S 2009-2013
DUCATI 1103 PANIGALE V4 2018-2019
DUCATI 1103 PANIGALE V4 S 2018-2019
DUCATI 1103 PANIGALE V4 S CORSE 2019
DUCATI 1103 PANIGALE V4 SPECIALE 2018-2019
DUCATI 1198 1098 R 2007-2011
DUCATI 1198 1098 R BAYLISS 2009-2011
DUCATI 1198 1198 2009-2012
DUCATI 1198 1198 R CORSE SPECIAL EDITION 2010-2012
DUCATI 1198 1198 S 2008-2012
DUCATI 1198 1198 S CORSE SPECIAL EDITION 2010-2012
DUCATI 1198 1198 SP 2011-2012
DUCATI 1199 PANIGALE 2012-2013
DUCATI 1199 PANIGALE ABS 2013-2014
DUCATI 1199 PANIGALE R 2013-2017
DUCATI 1199 PANIGALE S 2013-2014
DUCATI 1199 PANIGALE S ABS 2013-2014
DUCATI 1199 PANIGALE S TRICOLORE 2012-2014
DUCATI 1199 SUPERLEGGERA 2014
DUCATI 1200 MONSTER 2014-2019
DUCATI 1200 MONSTER R 2016-2018
DUCATI 1200 MONSTER S 2014-2018
DUCATI 1200 MONSTER S STRIPE 2015-2016
DUCATI 1299 PANIGALE 2015-2017
DUCATI 1299 PANIGALE R FINAL EDITION 2017-2018
DUCATI 1299 PANIGALE S 2015-2017
DUCATI 1299 PANIGALE S ANNIVERSARIO 2016-2017
DUCATI 1299 SUPERLEGGERA 2017
DUCATI 749 749 R 2003-2007
DUCATI 821 HYPERMOTARD 2013-2015
DUCATI 821 HYPERMOTARD SP 2013-2015
DUCATI 821 HYPERSTRADA 2013-2015
DUCATI 848 848 2007-2013
DUCATI 848 848 EVO 2010-2013
DUCATI 848 848 EVO CORSE SPECIAL EDITION 2011-2013
DUCATI 848 STREETFIGHTER 2012-2015
DUCATI 899 PANIGALE 2014-2015
DUCATI 939 HYPERMOTARD 2016-2018
DUCATI 939 HYPERMOTARD SP 2016-2018
DUCATI 939 HYPERSTRADA 2016-2018
DUCATI 939 SUPERSPORT 2017-2019
DUCATI 939 SUPERSPORT S 2017-2019
DUCATI 959 PANIGALE 2016-2018
DUCATI 959 PANIGALE CORSE 2018
DUCATI 990 DESMODESICI RR 2007-2009
DUCATI 998 MONSTER S4R Testastretta 2007-2008
DUCATI 998 MONSTER S4RS Testastretta 2006-2008
DUCATI 999 999 2003-2007
DUCATI 999 999 R 2003-2006
DUCATI 999 999 R XEROX 2006
DUCATI 999 999 S 2005-2006
ENERGICA 11.7 EGO 2015-2018
ENERGICA 11.7 EVA 2015-2018
ENERGICA 11.7 EVA ESSEESSE 9 2018
KAWASAKI 1000 H2 NINJA 2015-2019
KAWASAKI 1000 H2 NINJA CARBON 2017-2019
KAWASAKI 1000 H2 R NINJA 2015-2018
KAWASAKI 1000 Z R 2017-2019
KAWASAKI 1000 ZX-10R ABS 2016-2019
KAWASAKI 1000 ZX-10R ABS KRT REPLICA 2016-2018
KAWASAKI 1000 ZX-10R ABS SE 2018-2019
KAWASAKI 1000 ZX-10R ABS WINTER EDITION 2016
KAWASAKI 1000 ZX-10RR 2017-2019
KAWASAKI 1400 ZZR PERFORMANCE SPORT ABS 2016-2019
KTM 1050 ADVENTURE ABS 2015-2016
KTM 1190 ADVENTURE ABS 2013-2016
KTM 1190 ADVENTURE R ABS 2013-2016
KTM 1190 RC8 2008-2011
KTM 1190 RC8 R 2009-2015
KTM 1190 RC8 R TRACK 2011-2013
KTM 1290 SUPER DUKE GT 2016-2019
KTM 1290 SUPER DUKE R 2014-2019
KTM 1290 SUPER DUKE R SE 2016-2017
KTM 950 SUPERMOTO 2005-2008
KTM 950 SUPERMOTO R 2007
KTM 990 SUPER DUKE 2005-2012
KTM 990 SUPER DUKE R 2007-2013
KTM 990 SUPERMOTO 2008-2010
KTM 990 SUPERMOTO R 2009-2011
KTM 990 SUPERMOTO R ABS 2012-2013
KTM 990 SUPERMOTO T 2009-2010
KTM 990 SUPERMOTO T ABS 2011-2013
MOTO GUZZI 1200 MGS-01 CORSA 2007-2011
MV AGUSTA 1000 F4 2013-2016
MV AGUSTA 1000 F4 312R 2007-2008
MV AGUSTA 1000 F4 FRECCE TRICOLORE 2010-2012
MV AGUSTA 1000 F4 R 2006-2016
MV AGUSTA 1000 F4 RC 2015-2018
MV AGUSTA 1000 F4 RC LH44 2018
MV AGUSTA 1000 F4 RR 2010-2016
MV AGUSTA 1000 F4 RR CORSA CORTA 2012
MV AGUSTA 1000 F4 SENNA 2004-2006
MV AGUSTA 1078 BRUTALE RR 2008-2009
MV AGUSTA 1078 F4 312RR 2007-2009
MV AGUSTA 1078 F4 CLAUDIO CASTIGLIONI 2007
MV AGUSTA 1090 BRUTALE 2013-2015
MV AGUSTA 1090 BRUTALE CORSA 2013-2015
MV AGUSTA 1090 BRUTALE R 2012-2015
MV AGUSTA 1090 BRUTALE RR 2010-2016
MV AGUSTA 675 BRUTALE 2013-2017
MV AGUSTA 675 F3 2011-2019
MV AGUSTA 675 F3 ORO 2012-2013
MV AGUSTA 675 F3 RC 2015-2019
MV AGUSTA 800 BRUTALE 2013-2018
MV AGUSTA 800 BRUTALE RC 2018-2019
MV AGUSTA 800 BRUTALE RR 2015
MV AGUSTA 800 BRUTALE RR PIRELLI 2018-2019
MV AGUSTA 800 DRAGSTER 2014-2016
MV AGUSTA 800 DRAGSTER RC 2017-2019
MV AGUSTA 800 DRAGSTER RR 2015-2019
MV AGUSTA 800 DRAGSTER RR LH44 2015-2016
MV AGUSTA 800 F3 2013-2019
MV AGUSTA 800 F3 AGO 2014-2015
MV AGUSTA 800 F3 ORO 2012-2013
MV AGUSTA 800 F3 RC 2015-2019
MV AGUSTA 800 RIVALE 2013-2018
MV AGUSTA 800 RVS#1 2018-2019
MV AGUSTA 800 STRADALE 2015
MV AGUSTA 800 TURISMO VELOCE 2015-2019
MV AGUSTA 800 TURISMO VELOCE LUSSO 2015-2019
MV AGUSTA 800 TURISMO VELOCE LUSSO SCS 2018-2019
MV AGUSTA 800 TURISMO VELOCE RC 2017-2019
MV AGUSTA 910 BRUTALE R 2005-2008
MV AGUSTA 920 BRUTALE 2010-2012
MV AGUSTA 989 BRUTALE R 2008-2009
MV AGUSTA 990 BRUTALE R 2010-2012
PINZE FRENO BREMBO RACING RADIALE ANTERIORE 4 PISTONI 100 mm INTERASSE MONOBLOCCO FUSA
TRIUMPH 1050 SPEED TRIPLE 2007-2016
TRIUMPH 1050 SPEED TRIPLE 94 ABS 2015-2016
TRIUMPH 1050 SPEED TRIPLE ABS 2007-2016
TRIUMPH 1050 SPEED TRIPLE R 94 ABS 2015-2016
TRIUMPH 1050 SPEED TRIPLE R ABS 2012-2017
TRIUMPH 1050 SPEED TRIPLE RS ABS 2018-2019
TRIUMPH 1050 SPEED TRIPLE S ABS 2017
TRIUMPH 1200 TRUXTON R 2016-2017
TRIUMPH 675 DAYTONA R 2011-2012
TRIUMPH 675 DAYTONA R ABS 2013-2017
TRIUMPH 765 STREET TRIPLE R 2017-2019
TRIUMPH 765 STREET TRIPLE RS 2017-2019