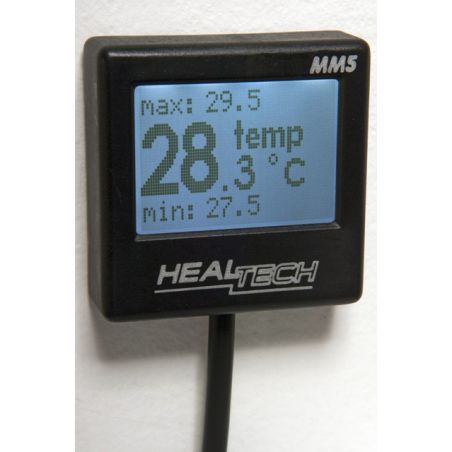  
Instrumentation (B) MM5 Multimeter - multifunction display (F21035)
> MM5 Multimeter - multifunction display
PRODUCT
HealTech >> MM5 MULTIMETER - MULTI-FUNCTION DISPLAY
MM5 MULTIMETER

MULTIFUNCTION DISPLAY SCREEN LCD BACKLIT FOR MOTORCYCLE AND MOTOR VEHICLES

MAIN FUNCTIONS

air temperature reading with min / max reset. Degrees Celsius and Fahrenheit.
operating hour meter engine - records the hours of engine use. Secondary switching from the settings menu
voltmeter reading with min / max reset. warning light on and off programmable backlight.
Stopwatch function "resume"
show the engine ignition time for us to program stops during long transfers
stopwatch for lap times; shows the current time, the last recorded and the best. An arrow indicates whether it has improved or not their time.
FEATURES

display easy to read in all lighting conditions
Compact size for use on motorcycles (41x41x12 mm)
All functions are controlled remotely by a single button On An automatic cycle it can be enabled to switch between the first three functions
Supplied with a wide range of external sensors of high precision temperature
installation quick and easy, just connect two cables (power and ground)
Suitable for use on motorcycles, ATVs, cars, boats and other vehicles Portrait Of robust design, fully waterproof
FAQ

The stopwatch lap timer works with manual switch. The driver has to press the button at the finish step.
The power cord can be connected to power permamnente or controlled by switch, depending on how the user intends to use the display for the voltage and the stopwatch functions. If connected to a permanent power the backlight can be adjusted through the voltmeter functions to reduce the standby power consumption.
can be installed on any type of motorized vehicle, regardless of the type of engine (diesel or gasoline). So even on snowmobiles, tractors, trucks, ultralight aircraft, lawnmowers, etc. The assembly is not only universal but also very simple, with only two connections (power and ground).