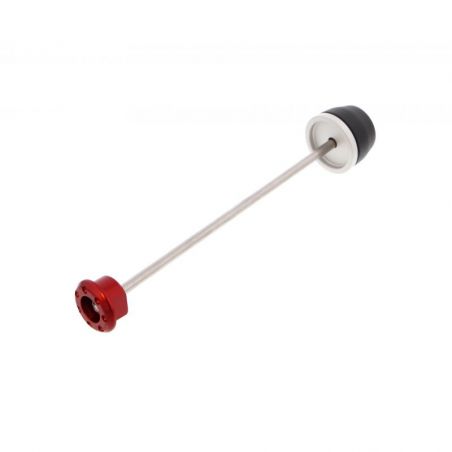  
Compatibility:
All Evotech Performance products are 100% compatible without modification with the indicated motorcycle model. Assembly does not require any additional components.All accessories are Plug & Play compatible with the original components of the bike. Any additional components necessary for assembly are always supplied in the kit.
Assembly guide:
On the bottom of this description you can download the photographic assembly manual which contains the list of components, if the link does not work you can ask for the manual after placing the order and it will be sent to you.
Description:
Evotech Performance EP Rear Spindle Bobbins - Triumph Speed Triple S (2018 - 2020)
2018,2019,2020

Features of Spindle Bobbin Crash Protection
EP Rear Wheel Hub Protectors are manufactured in the UK by Evotech Performance from the highest quality materials
Nylon slider with aluminium spacer, anodised aluminium hub stop, stainless steel spindle and all mounting fasteners supplied
Designed and fabricated to protect the single-sided rear wheel hub
Replacement individual nylon bobbins are available for purchase
What is Spindle Bobbin Crash Protection?
The Triumph Speed Triple S single-sided rear swingarm hub is a target for expensive damage. Protect yours with the EP Rear Wheel Spindle Bobbins. The driveline side features a moulded nylon bobbin and aluminium spacer. The opposing side features a CNC-machined aluminium hub stop finished in striking red anodise to highlight the bike's styling accents. The protectors are held firmly via supplied rolled thread stainless steel spindle and fasteners.